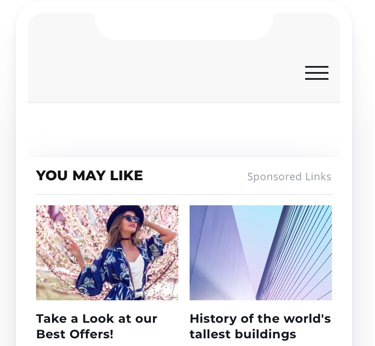 Monetize or Promote your Platform with Engaging Content-Styled Ads
We help ambitious publishers grow their traffic, audience, or monetize content with less intrusive ads with high earnings for every engagement.
Safe Ads
Excellent Coverage
Revenue Optimization
Audience Meets Technology - Partnership that Drives Growth
Our technology is crafted with the success of our publishers in mind. Join the party and take your content promotion and monetization to the next level.
Fast Payments
Excellent Tracking
Top-notch Support
Partnership That Drives Growth
Join Hundreds of Publishers & Webmasters Already Growing their Revenue with us
Detailed Stats
View detailed and realtime statistics of engagements generated from your platform.
Dedicated Support
Get access to a dedicated support staff for timely resolution of all challenges.
Marketplace & Ad Server
Manage all your ads from one place and make direct ad sales to advertisers on our marketplace.
Start Promoting or Monetizing with Native Ads
Munchads ensures all valid engagements are tracked so you can earn the most from your content or drive traffic to your website cost-effectively.
Frequently Asked Questions
We work with publishers accross all verticals and niches aside those with adult contents on their platforms. Also, we only accept websites with a good amount of organic and search traffic. We do not welcome incentivised traffic or paid to click/read platforms.
The marketplace allows publishers who wish to sell their ad slots directly to advertisers to do so at their own prices and terms. Publishers can also choose not to list their slots on the marketplace and simply manage and serve their website ads through the platform.
Payouts are sent via local bank transfers. The associated fee and limit is determined by the revenue source and the publisher's account currency.
Have more questions?
Kindly
contact us
and we'd be more than happy to assist and work with you.